Safe Travel
We're working around the clock to make sure that when you travel, you travel safely on our trains and in and around our stations. We can all also help each other by ensuring we be kind when travelling.  
Here's how we're helping to make you travel safely.  
Over 6,000 cameras at our stations and on board our trains and we're adding more each month.  
Our teams have started to wear body worn cameras to help protect you, our colleagues, and to deter any antisocial behaviour 
66 Northern Travel safety officers patrolling the network, these work alongside British Transport Police 
330 help points at stations which can connect you straight to emergency services or to seek some assistance from our control room 
We've installed over 20,000 new, brighter, LED lights to make stations brighter in the dark.   
How you can help:  
See it. Say it. Sorted
if you witness a crime at one of our stations or on one of our trains, contact the British Transport Police immediately on 0800 40 50 40 or text on 61016. In an emergency, always call 999.
If you see something that doesn't look right or see any antisocial behaviour you can: speak to a member of staff or text the British Transport Police (BTP) on 61016 (or call 0800 40 50 40).  
Remain vigilant. If you see anything suspicious, like someone being somewhere they shouldn't, strange behaviour in and around stations or even an unattended bag.
Be kind to each other and be considerate of others travelling, especially families and people travelling on their own.
Keep an eye out
Keep all your luggage and personal belongings with you at all times. Our staff and the British Transport Police are always on the lookout, however, thieves are always there too to take advantage.
If a crime does take place, all our properties are covered by CCTV, so report it quickly to our staff or the BTP and we'll be straight on the case.!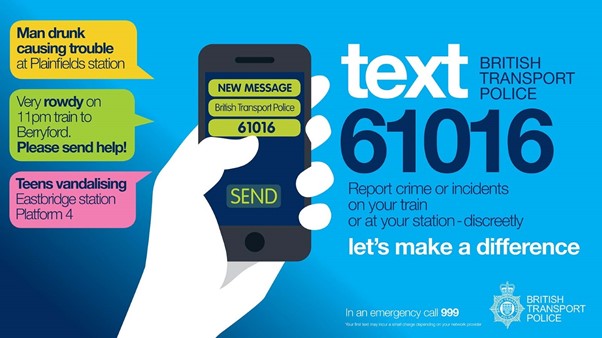 Looking after you – Antisocial behaviour 
The safety of our passengers and our staff is very important to us. This means that we won't allow anti social behaviour such as: 
Behaving aggressively 
Acting in a disorderly, indecent or offensive way 
Being drunk and disorderly   
Being obviously drunk and therefore unsafe to travel, or trying to conceal alcohol, will lead to refusal of travel under the railway byelaws and potentially prosecution 
Last year, 734 people were refused travel on our trains after a night our and had to find alternative travel.  
In some cases, a customer may be issued with a banning order which means they are not permitted on any Northern property. If they ignore the ban, they will be breaking the law. 
Reporting unwanted sexual behaviour
Sexual harassment will not be tolerated. The railway is for everyone, no one should be made to feel unsafe or uncomfortable whilst travelling.
Everyone should all be free to travel as and when they like without feeling unsafe, violated, or intimidated.
How to report unwanted sexual behaviour on the railway:
Report it to a member of our on board or in station team

Call the railway's sexual harassment line powered by charity CrimeStoppers on 0800 783 0137

Discreetly text British Transport Police on 61016
You can remain anonymous during the process if you wish to.
Dry Trains 
At busy times or during big events, some of our services or stations will be areas where no alcohol is allowed, also known as 'dry trains'. BTP and staff will be in these areas advising anyone entering stations or trains of this.    
Secure Stations 
Many of our stations are part of the Secure Stations scheme. This means that at many of locations we are increasing security and taking steps to reduce crime. The Secure Stations scheme is run by the Department for Transport and the British Transport Police.     Our main station car parks across our network are "Park Mark Secure". The Safer Parking Scheme is a national standard for UK car parks that have low crime and measures in place to ensure the safety of people and vehicles.  A Park Mark is awarded to each car park that achieves the challenging standards.   
Did you know? 
Northern carry millions of customers a year and 99.999% of them never have an accident. However, if you do have an accident: 
Tell the conductor, a member of station staff, or our Customer Experience Centre 
Give them full details of your journey as we may need to tell another train operator 
If it happened on-board please tell us the train number (inside on a notice at the end of each carriage, and painted on the outside of each carriage). 
    Avoiding Accidents 
Running at the station can lead to trips and slips so take your time - arrive a little earlier to avoid rushing through the station 
Take care on stairs and escalators - keep left and hold the handrail 
Carrying luggage, extra bags or maybe a buggy? Use the lift where possible and don't battle with the stairs 
When using the lift, stand clear of the doors and take care stepping in and out 
Phones and tablets can be distracting. Take extra care using them in the station  
Help others less able than yourself if they're struggling 
  Buggies 
If you can, fold your buggy and carry it on and off the train but don't leave small children alone while you do this 
If that isn't practicable leave the child in the buggy, pull the buggy to the door backwards, get off and then lift the buggy down after you.
Please don't block aisles or doors on the train   
Wheelchairs and ramps 
If you have pre-booked assistance our staff should be waiting. However, if they are not, please tell the conductor 
Tell our staff what you need them to do. They will position the ramp for you but they will not push you up or down it unless you ask them to 
If your wheelchair is electric they will guide you onto the ramp but they cannot control the wheelchair down the ramp or stop you falling if you misjudge things   
Mind the gap  
Let others off before you get on 
Use the train handrails where possible 
Ask the conductor for help with bags, cases, pushchairs etc. 
Help small children to get on and off safely   
Help us to help you 
Ask the conductor for help if you need it 
Take extra care in wet or icy weather 
Keep back from the platform edge even if no train is due 
Step in if you see someone struggling