Where have you got planned for your next adventure? If you fancy a day out discovering somewhere new (and old) then look no further than the historic city of Lincoln.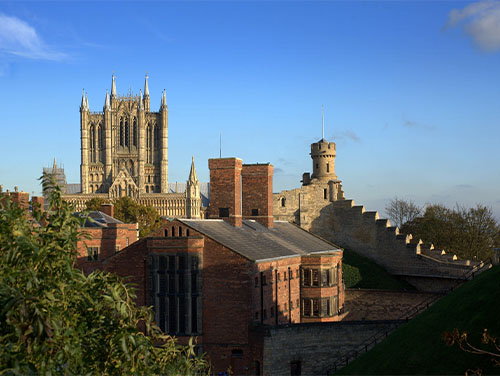 Famous for its gothic architecture, must-visits on a trip to the city include Lincoln Cathedral, which was once the tallest building in the world, and Lincoln Castle, which dates all the way back to 1068 and is home to an original 1215 Magna Carta. Feeling fit? Then a walk-up Steep Hill is a must. Despite being the fourth steepest hill in England, this beautiful cobbled street, lined with superb shops and offering great spots to capture some snaps, is well worth the effort. 
Puffing your way up Steep Hill not for you? Then there's Lincoln's Brayford Waterfront which is England's oldest inland Harbour. As well as providing a great selection of eating, drinking and entertainment venues, you can also see Lincoln from the water with a boat trip on the Brayford Belle (operating Easter to October).
Easy to get to on a Northern train (and don't forget you can save up to 65% by booking advance purchase train tickets through the Northern App), this compact city makes for a great day out or even weekend away, with a wealth of history to see and discover, a fantastic array of independent shops and some seriously Insta-friendly spots to capture. 
Find trains to Lincoln and plan your trip today!
Getting your bearings in Lincoln
In a nutshell, downhill you'll find Lincoln's city centre along with the Brayford Wharf, while uphill you'll find the Cathedral Quarter along with most of Lincoln's tourist sites. Connecting the two is the aforementioned pedestrianised Steep Hill (although there are regular buses connecting the two if the walk's not for you).
Discover Lincoln's cultural landscape
With a rich history dating all the way back to the first century BC, it's hardly surprising that Lincoln is a mecca for history, heritage and culture. As well as its outstanding examples of Gothic architecture, Roman ruins, Tudor landmarks and Medieval battlements, the city is home to a series of museums and galleries to discover, learn and be inspired by.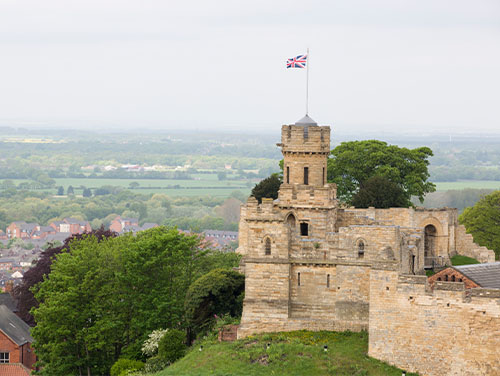 Lincoln Castle really is a must-visit. As well as dominating the Lincoln skyline for almost a thousand years, it offers awesome views across Lincolnshire, the 1215 Magna Carta, a Medieval Wall Walk and a Victorian Prison. You could easily spend a whole day here alone.
The Museum of Lincolnshire Life is free to visit and celebrates the culture of Lincolnshire from 1750 to the present day. With over 250,000 artifacts, interactive galleries, a trail for children and an authentic World War One tank, it's well worth a visit.
For art and artifact lovers, sitting side-by-side you'll find the Lincoln Museum and Usher Gallery. The Lincoln Museum offers artefacts from the Stone, Bronze and Iron Ages, Roman, Saxon, Viking and Medieval eras, whilst the Usher Gallery is a haven for art lovers, with permanent exhibitions including works from Turner, Lowry and Grayson Perry and a regularly changing programme of temporary exhibitions.
A 30-minute walk from the city centre, the International Bomber Command Centre (IBCC) is a sight to behold. With its 31-metre-high memorial spire, walls, peace gardens, and visitor centre, it marks the service and sacrifice of World War II aircrew, ground crew and support staff who lost their lives whilst serving with Bomber Command.  As well as being breathtaking, this moving monument really does offer fun for all ages, with dressing up for children, interactive galleries and a family-friendly cafe serving food including 'ration box' packed lunches - it's well worth the walk.  What's more, the view through the Memorial Spire leads directly to Lincoln Cathedral.
Just behind Lincoln Cathedral, you'll find what was once one of the most important and impressive buildings in England, the Medieval Bishops' Palace. Built in 1163 the Bishops' Palace was at the centre of the powerful and wealthy medieval Diocese of Lincoln, it was the largest in the country, stretching from the Humber all the way to the Thames. The Bishops' Palace is now owned by English Heritage and during the summer visitors can take an audio tour of the palace whilst soaking in the grand architecture and views of the city and surrounding countryside. There are also contemporary heritage gardens featuring a vineyard to explore.
Lincoln on a plate: food and drink
Whether you're looking for a laid-back independent café, a meal in a haute cuisine restaurant, to grab a pint in a cosy pub or to sip on the cocktail of the moment, Lincoln has it all.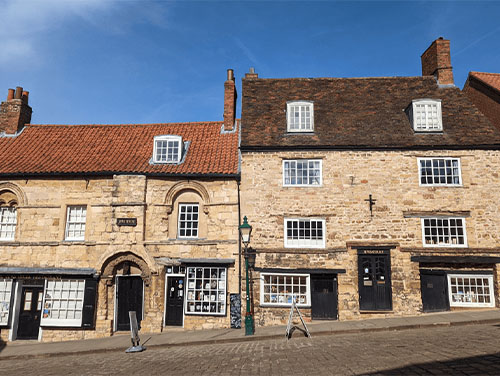 Bailgate is home to some of Lincoln's most popular pubs, some dating back to the 15th century and boasting views of Lincoln Cathedral. Perhaps pop in for a pint pit-stop at the Lion & Snake, Prince of Wales or the Duke William Hotel?
If you're wandering down to The Strait, don't miss the opportunity to stop for a lunch break at the Jew's House restaurant which sits beneath Jew's Court, named after the once thriving Jewish community that populated The Strait in Medieval England. Housed in a 12th-century stone building with a beautiful low-beam structure, Jew's House offers an intimate dining setting with a progressive European-influenced menu, tailored to all.
The name deceives. While you shouldn't expect to pick up a quick sandwich or a loaf to take home at The Old Bakery in the Cathedral Quarter, what you will find is truly outstanding food using the best seasonal ingredients. It's the only not-for-profit fine dining restaurant in the city and is owned by Lincoln College, providing an opportunity for Lincoln College students to train on the job. This converted Victorian bakery is an experience in itself with its vaulted glass-ceiling garden room and imaginative dishes.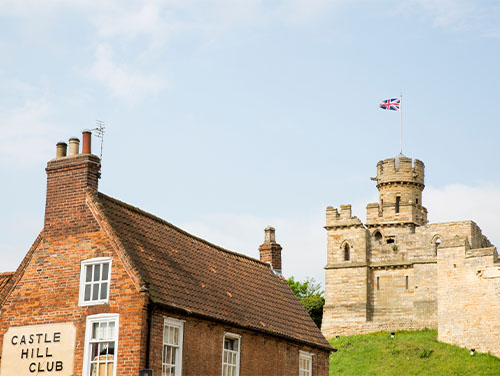 Also in the Cathedral Quarter you'll find The Bronze Pig – a real culinary treat. Led by an ex-Masterchef contestant, this intimate and unique restaurant has a menu made up of locally and renewably sourced produce. Well worth pushing the boat out and booking in advance.
Looking for something a little more laid back? Then check out Olivares. With Mallorcan owners at its helm, you genuinely feel like you're stepping into Spanish taverna. Serving an array of tapas and specialities, including tumbet and delicious cured meats, if that's not enough to tempt you, Olivares offers outstanding views of Lincoln Castle from its terrace and second floor.
Indulge in a little retail therapy in Lincoln
Whether you are looking for vintage fashion, artisan confectionery, specialist homeware and crafts, or just fancy a browse, Lincoln's shopping options will leave you spoilt for choice.
Bailgate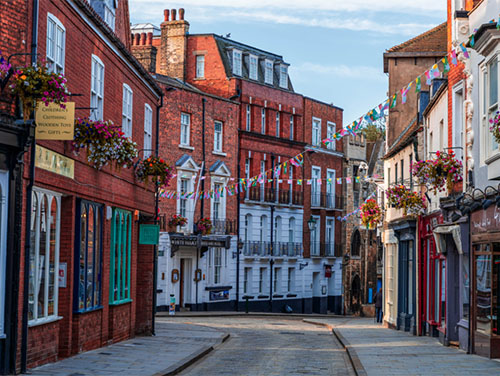 Bailgate is one of the most historic parts of Lincoln's Cathedral Quarter, where a host of independent boutiques and shops line the cobbled streets.
Dotted among the Roman ruins, the Bo-Peep Boutique offers a unique stock of clothing, wooden toys and gifts for little ones that you wouldn't find on the high street. For kids of all ages further down the Bail, Happy Soles sell 'beautiful shoes expertly fitted from baby steps to teenage kicks'.
Bespoke jewellery for both him and her can be found at Colonia of Bailgate, which has more than 25 years' experience in picking the best pieces to match your personality. For more local and traditional influences, independent retailer Follie, has the fantastic selection of quirky gifts, cards and jewellery – also stocking a selection of homemade items and vintage finds from around the world.
Take a look in the shop window and then explore Lindum Books to satisfy your literary needs, spread across two extensive floors of fact and fiction. 
Stroll up Steep Hill and The Strait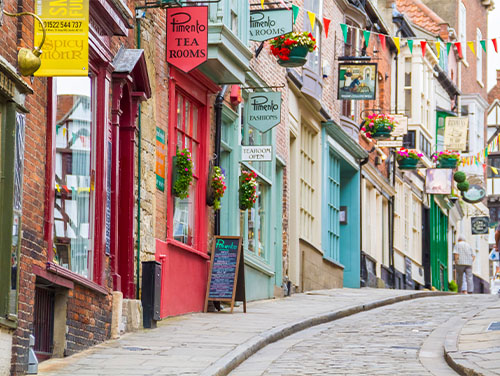 Steep Hill is certainly worth the climb for the shopping with its specialty, vintage and retro stores full of fabulous food and fashion delights. Winding its way down to The Strait, this quaint part of town houses most of its retail establishments in some of Lincolnshire's oldest buildings, a destination definitely worth visiting.
Famous for its independent foodies, let Steep Hill take you on a culinary journey, starting with The Old Mouse House Cheese Company at the top of the hill, a family run business famous for its Skegness blue and charcoal cheese. Further downhill you come to Carousel Chocolates – if the beautifully rustic shop front doesn't entice you in, the confectionery certainly will with an array of fudge, toffees and caramels galore. If you have an even sweeter tooth, Goodies Sweet Shop brings you to the bottom of Steep Hill and is on hand to supply you with retro favourites such as bon bons, chocolate limes and sherbert fountains.
If you're looking to treat yourself to new threads (or old ones for that matter) then check out vintage clothing store Yak – where you can pick up some unique finds and also get your hands on some vintage threads from classic brands including 1970's Levi Jeans and Doc Martins. For more decade-dwelling garms and gadgets, head further down The Strait to Ego Clothing for upcycled retro fashion at retro prices.
High Street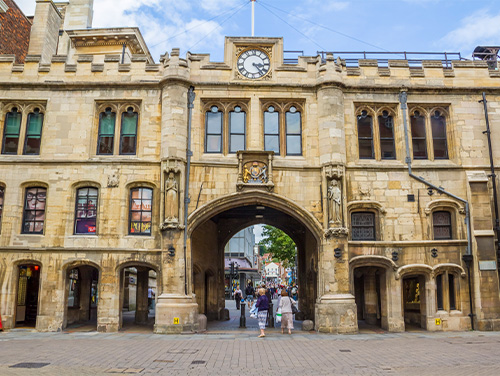 The main street in Lincoln doesn't disappoint when it comes to independents, who stand up tall to their commercial counterparts. 
Music lovers should veer towards Guildhall Street and check out independent record shop, Back to Mono. Explore the archives of new and collectable records, as well as t-shirts, posters, books and badges. The store also doubles up as a night club on a Saturday.
Clothing shops on this high street range from the quirky to the quaint, for every type of ensemble. For throwback fashion, you are just a stones'-throw from Rock Retro, where you can pick up vintage sports gear and accessories, or Jailhouse Frock, which specialises in glamourous vintage reproduction clothing in 1940s and 50s style. If you're keeping it contemporary, make a pit stop at independent boutique Agatha. Voted by British Vogue as one of the Best Boutiques in Britain, Agatha's stock an impressive range of premium fashion brands from Max Mara to Vivienne Westwood, with expert staff on hand to give you styling tips and inspiration for that perfect present.