Are you looking forward to a day out in the Geordie city? As the busy and vibrant hub of the North East, Newcastle is a buzzing city full of exciting but sustainable things to do and see.
Getting to Newcastle couldn't be easier by rail – and did you know it can be greener too? By swapping your journey from car to train you could reduce your carbon footprint by a whopping 78%*!
In addition to jumping on a Northern train to travel more sustainably, here are our best suggestions on how to enjoy an eco-friendly day out in Newcastle city centre.
Shopping
Appreciate a Newcastle institution whilst shopping with a trip to the Grainger Market. This indoor market, built in 1835, is so iconic that it's previously been used for concerts, art exhibitions and fashion shows. Take the 10-minute walk from the Newcastle train station and explore its variety of stores, from greengrocers selling locally sourced organic food to vintage clothes, jewellery and gift shops. 
Located in the Grainger Market you'll find Analog, a popular vintage shop where you can peruse unique handpicked 90s vintage clothing. Whilst visiting the market you can take the opportunity to stock up on household products from Nil Living, a zero-waste and refill shop, this plastic-free and bulk store aims to help people to reduce waste, consume mindfully and shop healthily.
The Quayside is a must-see when visiting the city, a walk along it will give you some of the most picturesque views of the River Tyne and you'll be able to spot the most recognisable landmarks including the Tyne and Millennium Bridge. Every Sunday you'll find the Quayside Market here, this popular outdoor market that offers a range of locally sourced and organic food, as well as handmade crafts and gifts.
Culture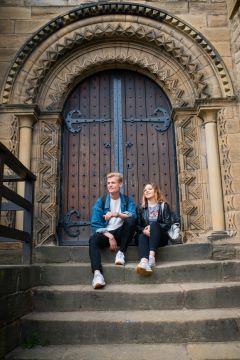 If shopping isn't for you, head to the Discovery Museum. The museum is committed to being sustainable and reducing its environmental impact and is conveniently located a 10-minute walk from the train station. Here you can get involved in interactive exhibits on local history and science, including a display on sustainable energy, a digital planetarium with virtual tours of the universe, and hands-on science displays and experiments. 
For a taste of culture and history, step inside Newcastle Cathedral, also known as St. Nicholas' Cathedral. It's well worth the stop en route from the train station to the city to see the inside of this beautiful medieval church which has won awards for its eco-friendly practices, such as using renewable energy and reducing waste. 
Food and drink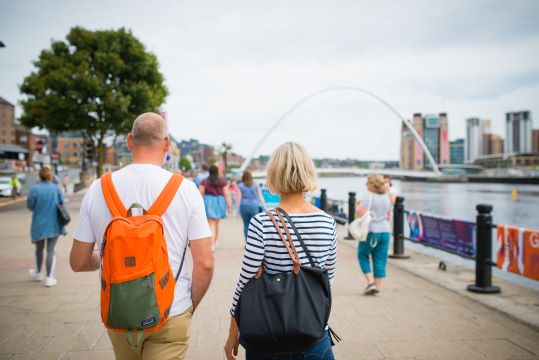 If all that sightseeing has worked up your appetite, head for a bite at one of Newcastle's many cafés. We recommend The Factory Kitchen, situated on top of The Biscuit Factory art gallery. This roof terrace café serves homemade food made from scratch using seasonal and locally sourced ingredients. Not only does the café use compostable packaging, but it also has a zero-waste policy.
Looking for something stronger? The Bridge Tavern is an award-winning pub located on the Quayside which is committed to sustainability and reducing waste by sourcing beer from local breweries recycling and composting, we'll cheers to that!
Travel to Newcastle with Northern
Now you've got some ideas on how to go green in Newcastle city centre, it's time to get your trip in the diary. Did you know that you can save up to 65% by booking Advance Purchase train tickets with Northern? Available up to 8 weeks before travel you can even get a last-minute bargain by purchasing 5 minutes before your trip.
Try our Savings Calculator
Compare your train journey vs the car and find out how much you could save today!
Check your journey