Planning a day out in Manchester? As well as having an iconic music scene, Manchester is jam-packed with amazing restaurants and bars, has plenty to see, and an abundance of culture to enjoy.
Getting to Manchester couldn't be easier by rail – and did you know it can be greener too? By swapping your journey from car to train you could reduce your carbon footprint by a whopping 78%*!
In addition to jumping on a Northern train to travel more sustainably, here are our suggestions on how to enjoy a sustainable day out in Manchester city centre and Go Do Your Thing.
If you're looking to stop off for lunch, look no further…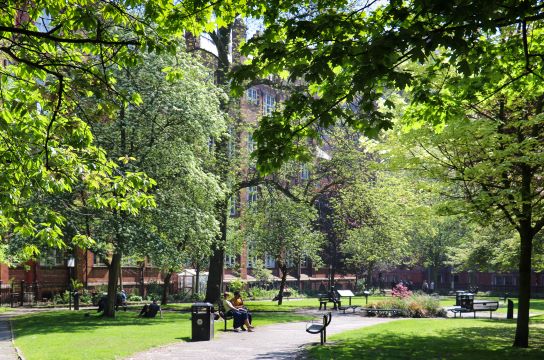 A short walk from Manchester Victoria Station, and a stone's throw from Salford Central, you'll find Open Kitchen, a café and bar based in the People's History Museum. Created by Manchester's leading sustainable catering company, this eatery offers a delightful food experience, serving breakfast, lunch and drinks throughout the day. Its sustainable and ethical approach means the café works with a range of food businesses to save perfectly edible food from going to waste and ensures all ingredients are sourced from a sustainable food chain.
Hop off the train at Manchester Oxford Road for a short walk to Eighth Day Café. An extension of the vegetarian health food store Eighth Day, the café is the perfect green lunchtime location. The strictly vegetarian and vegan menu, use of eco-friendly packaging, recyclable foil and other compostable materials, makes this a great sustainable spot.

 Wholesome Junkies has opened a permanent site right next to Manchester Victoria Station. It serves a great selection of unique vegan dishes, creating vegan alternatives to popular fast-food options. Beyond the meat-free menu, Wholesome Junkies uses cutlery and containers made from vegetables. 
Perhaps you're wanting to stock up, refill or treat yourself?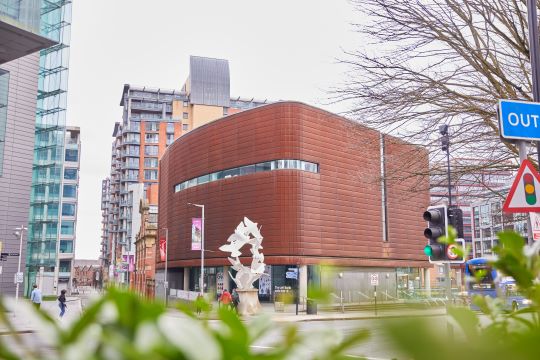 McCalls Organic can be found in the middle of the shopping district, right next to the Arndale Centre. Open 7-days-a-week, this refill and eco-products shop has everything from your favourite nuts, seeds and vegan food alternatives, through to shampoo and conditioner bars. 
A student-run shop run out of Manchester University Student Union, Want Not Waste is a plastic-free refill and eco shop. As well as having a refill station, the shop has recycling and donation points, hosts eco-friendly events such as clothes swaps, DIY/skill share workshops and provides talks on how to live sustainably.
Looking to see the sights of Manchester?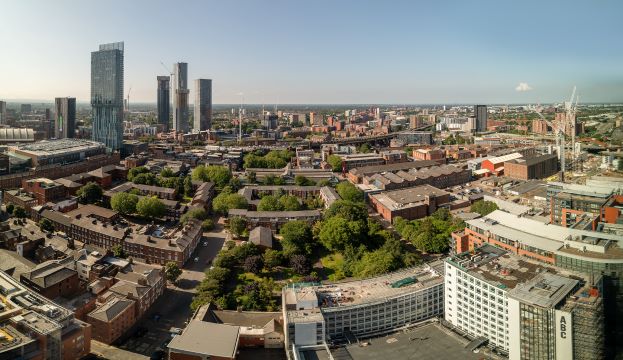 See the sights with a local with Manchester Taxi Tours. You may be wondering how jumping off the train and heading into a taxi is eco-friendly transport... well the classic black taxi is fully electric with zero emission capabilities. A fully flexible, wheelchair accessible tour, you and up to five friends can work with your driver to have a personalised experience, choose from a pre-planned themed tour or leave it up to the expert, sit back and enjoy the Mancunian sights. 
Explore the 154 acres of historic world-class green-space at RHS Garden Bridgewater. With many gardens to explore, play areas for the kids and three cafés to choose from, you can be sure to fill your day with the delights of Bridgewater. What's better is if you opt to go car-free, you're eligible for 30% off garden entry. All you need to do is purchase a car-free ticket online in advance, perhaps at the same time as your advance Northern train tickets and present your train ticket on arrival. Between April and October there is a daily shuttle bus to and from Manchester Piccadilly Station for a small cost.
Travel to Manchester with Northern
Now you've got some ideas on how to go green in Manchester it's time to get your trip in the diary. Did you know that you can save up to 65% by booking Advance Purchase train tickets with Northern? Available up to 8 weeks before travel you can even get a last-minute bargain by purchasing 5 minutes before your trip!
Try our Savings Calculator
Compare your train journey vs the car and find out how much you could save today!
Check your journey