Welcome to Northern's Friends and Family Online Discount Travel Scheme
Through this scheme we're giving friends and family of our colleagues a special discount offer to travel on our services. 
This discount ticket allows you to travel on any number of Northern services for the day for a flat fare of £7 for an adult and £3.50 for a child, and is valid for travel after 09:30 weekdays and anytime at weekends and bank holidays.
To get a friends and family discount ticket, you will need to have been given a discount travel pin code by one of our colleagues.  Each pin code can be used to buy up to four tickets online.
How to buy a friends and family ticket
To buy friends and family tickets follow this short handy guide or use the detailed step by step instructions below.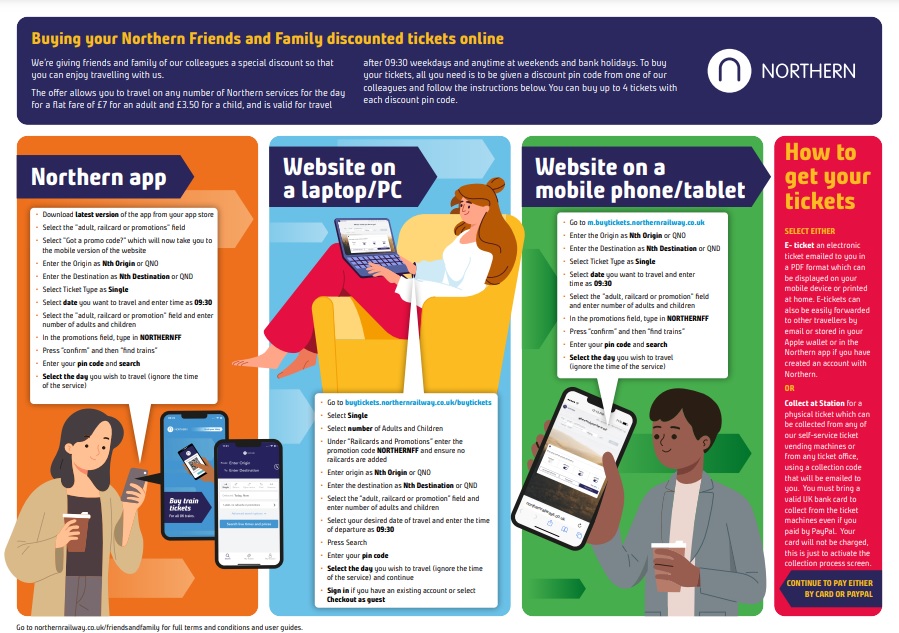 Step by Step Instructions
Ticket can be purchased online in three ways. Full instructions are available for each.
Website - desktop
Go to buytickets.northernrailway.co.uk/buytickets and follow these instructions
Website - mobile
On your mobile phone or tablet go to m.buytickets.northernrailway.co.uk/ and follow these instructions
Northern app
Download the Northern app to your mobile phone or tablet via your app store and follow these instructions
How to get your tickets
Tickets can issued in two ways:
E-ticket – this is an electronic ticket which will be emailed to you in a PDF format 

which can be displayed on your mobile device or printed at home. The E-ticket can also be stored in your Apple wallet or in the Northern app if you have created an account with Northern.

Ticket on departure – a physical ticket which can be collected from one of our self-service ticket vending machines or from any ticket office, using a collection code that is emailed to you. You must bring a valid UK bank card to collect from the self-service machines even if you paid by PayPal.  Your card will not be charged, this is just to activate the collection process.
We hope you enjoy travelling with Northern.
Terms and Conditions
1. The offer is available to the friends and family of Northern employees, Carlisle Support Services and ISS employees contracted to Northern.
2. There is currently no expiry date for your Pin codes.
3. Only one voucher code can be used for each transaction. Up to four Northern journey tickets can be purchased in one transaction.
4. All tickets can only be purchased online at buytickets.northernrailway.co.uk/buytickets or via the Northern app. Tickets cannot be purchased on board our trains or at ticket offices.
5. Tickets can either be issued as an e-ticket or Ticket on Departure, which can be collected from ticket vending machines or ticket offices.
6. The child fare in this promotion applies to children aged 5–15 (inclusive). Children under the age of 5 travel free of charge.
7. Tickets must be available for inspection while travelling.
8. All travel must be made on the date shown on the ticket. Travel is for off-peak services on Mondays-Fridays on trains timed to depart from 09:30 – with no evening peak restrictions; and at any time on Saturdays, Sundays and Bank Holidays.
9. Tickets can be purchased up to 3 months in advance
10. No other Railcard discount or promotional offers can be used in conjunction with this offer.
11. Valid for travel on Northern services only. These tickets cannot be used on any other Train Operating Companies' services.
12. No refunds or changes can be made once the tickets are issued.
13. Any infringement of these conditions and any misuse and/or abuse of this offer may lead to the withdrawal of the benefit and disciplinary action.
14. The friends and family online discount travel pin codes are not for resale.
15. Local travel restrictions may be in place due to COVID-19 and must be adhered to. Please check before travel at gov.uk/coronavirus