The best rooftop bars in Manchester
Go Do Your Thing in Manchester
Exploring Manchester for a day out or looking to Go Do Your Thing after work? There is a range of great rooftop bars in Manchester: the perfect destination when the sun is shining and you're looking to soak up some rays and enjoy the atmosphere with friends.
Discover our pick of the best rooftop spaces to enjoy in the city – all within easy reach of the train station so you can hop on the train there and back with Northern. From stylish cocktails to craft beer and more, there's something to suit everyone while taking in the view.
20 Stories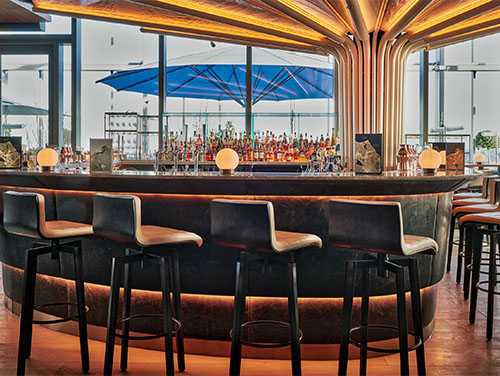 When you think of Manchester and rooftop bars, 20 Stories – located within the stylish Spinningfields area – comes straight to mind.
Composed of a glamorous restaurant, a bustling bar and a large rooftop terrace with full 360-degree views of the Manchester skyline. With menus and cocktails created to showcase the north, and many ingredients locally sourced, 20 Stories is a true northern gem.
Brewdog Doghouse
Brewdog Doghouse is a great food and drink destination, with happy hour, deals for kids, weekly events and beer-tasting experiences. The first-floor bar has a whopping 30 taps of craft beer and a mouth-watering menu of burgers, wings, salads and brunch options. When you head upstairs to the rooftop bar, you will find an alternative seasonal menu to enjoy.
YES
YES is a multi-space venue with a busy gig schedule, regularly changing street food vendors and "cheap beer and fancy drinks" to enjoy.
Once you've grabbed food and drinks head out to the rooftop bar to soak up the sunshine with friends. A super short 3-minute walk from Manchester Oxford Road station, you can even enjoy watching the trains go past from YES.
The Ivy Spinningfields
Another go-to Spinningfields spot, this versatile space offers an array of options to tempt your tastebuds. Housing both The Ivy Brasserie and The Ivy Asia on different floors, with exciting menus and cocktails and a resident DJ in the evenings, the venue also has a rooftop garden. Open all year thanks to the retractable glass roof, heating and air conditioning, you can enjoy this space even in the Manchester rain!
There's no better way to spend a sunny afternoon than in one of Manchester's amazing rooftop bars. Share your pics on the journey home with Northern's free WiFi and spread the word about your favourite spot! Don't forget to book your tickets in advance for the best deals.