Exploring Leeds for a day out or looking to Go Do Your Thing after work? There is a range of great rooftop bars in Leeds: the perfect destination when the sun is shining and you're looking to soak up some rays and enjoy a buzzy atmosphere with friends. 
We've created our definitive list of rooftop spaces to enjoy – all within easy reach of Leeds train station, so you can hop on the train with Northern and make your rooftop adventure easy. Take in the view from the window, plug in your phone to charge (so you're on full battery for those rooftop snaps) and enjoy the journey – whether you're just beginning your outing or being whisked home.
Headrow House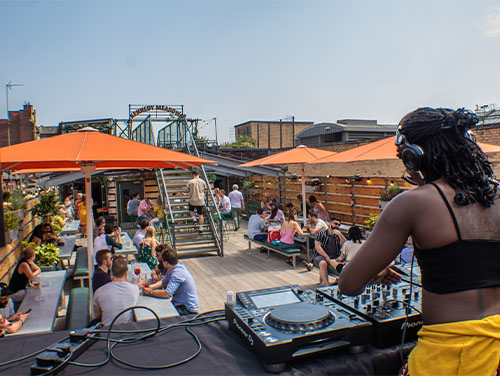 Spread across four floors, Headrow House is a titan venue that has it all: a restaurant, beer hall, live music venue – and not one, but two roof terraces.
Head up the stairs and you'll arrive at Headrow House's crowning glory: Redondo Beach bar and roof terrace. Boasting plenty of seating, sheltered areas and outdoor heaters, this location is the perfect meeting point whatever the weather. Another staircase leads up to Kennedy Meadows which has incredible views across Leeds city centre.
Green Room
Located just a stone's throw from Leeds station, Green Room is a must-visit when it comes to rooftop bars. Designed as an all-weather destination, Green Room's roof terrace transitions from a sunny haven in summer to a cosy covered space in the winter. The perfect place to have a drink with friends and family, or even to have a catch-up with colleagues, this atmospheric rooftop bar is a real crowd-pleaser.
Belgrave Music Hall and Canteen
A much-loved Leeds institution, Belgrave is a 3-floor 1930s venue which boasts live events and fresh, canteen-style food in addition to its incredible roof terrace. Grab some pizza by the slice from Dough Boys or a burger from Patty's on the ground floor and head upstairs to enjoy Belgrave's lively roof terrace that's always a hit when the sun is shining. 
Issho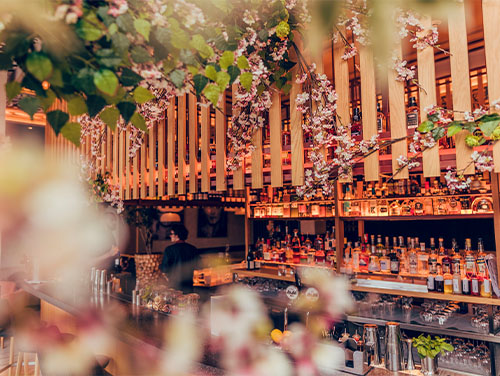 Located in Victoria Gate, this high-end rooftop location comprises a restaurant, bar and terrace.
Enjoy Issho's menu of contemporary cocktails, sake and Japanese beers and spirits in the sleek surroundings of its outdoor terrace - the perfect place to celebrate, soak up the sun or have a good catch-up with friends.
You'll also be perfectly placed to order a bite to eat from Issho's impeccable Japanese food menu if you feel peckish.
Sky Lounge
If you're looking for a showstopping view with drinks and atmosphere to match, look no further than Sky Lounge. Located on the 13th floor of the Doubletree by Hilton, Sky Lounge is a popular location for special occasions thanks to its unrivalled city views as Leeds' highest rooftop bar. With a slick interior surrounded by floor-to-ceiling windows, venture out onto the terrace and drink in panoramic views of Leeds with a cocktail in hand.
Wherever you spend your sunny afternoon, you'll be sure to enjoy culture, music and great company. Need to get your trip on the 'gram ASAP? Log on to Northern's free WiFi and spend your train ride home picking your best pics for the grid – you've got to spread the word about Leeds after all!