We have ambitions to further our long-term social, economic and environmental contribution, both for our passengers and wider society. And to achieve our ambitions, we need to get under the skin of the value we bring. That's why we have partnered with Atkins to carry out a detailed assessment of the value Northern generates for the North, and for the UK. The report highlights that every £1 invested in the Northern network by the Government:
generates £1.24 of Gross Value Added (GVA)
returns £1.84 of welfare benefit
supports £2.50 of economic value.
It is clear that the Government's investments in Northern represent good value for money across a diverse range of economic, social and environmental criteria. While the pandemic clearly affects this impact, it demonstrates the value that we want to achieve and improve on in the future.
Socio-economic report 2022
Northern Trains Limited socio-economic report 2022
About the study
We know that customers and communities value the services we provide. But to meet our future ambitions we needed a comprehensive baseline of the:
different ways that we generate value

mechanisms through which value is realized.
Clearly the COVID-19 pandemic has made our task more difficult and we wanted to understand it's impacts and how recovery might look. All of this was to inform our ongoing strategy, as well as allow us to monitor progress in future.
As a result, we commissioned Atkins to give us a robust, independent assessment of the social and economic value that we generate. The principal analysis focusses on the year immediately before March 2020, although we do cover the impacts that COVID-19 has had.
The method used
We sought to capture and quantify the fullest possible picture of Nothern's impacts. Whether it is through our services, employment, procurement from local suppliers or wider work in society. Also, Northern like many train operators, receives a level of subsidy to run its services. For the first time, we wanted to understand how the benefits generated by our operations compared to this.
The different types of value include:
Employment and Gross Value Added

(GVA) from the number of people we employ directly and their wages, as well as those we support through our supply chains.

Benefits to our passengers

through the time they save compared to other modes of transport and the overall value they place on the journeys they make.

Benefits to local residents

through living close to our stations and services.

Benefits to wider society, economy and environment

through less congestion on the roads, reduced carbon emissions, improved air quality and providing access to labour markets and education
We used different analytical approaches to measure our full, annual impacts in different ways. And findings were produced for the North of England overall, as well as broken down by region and local authority.
Each of the total figures was then compared to the £500 million subsidy we received in the last year before the pandemic.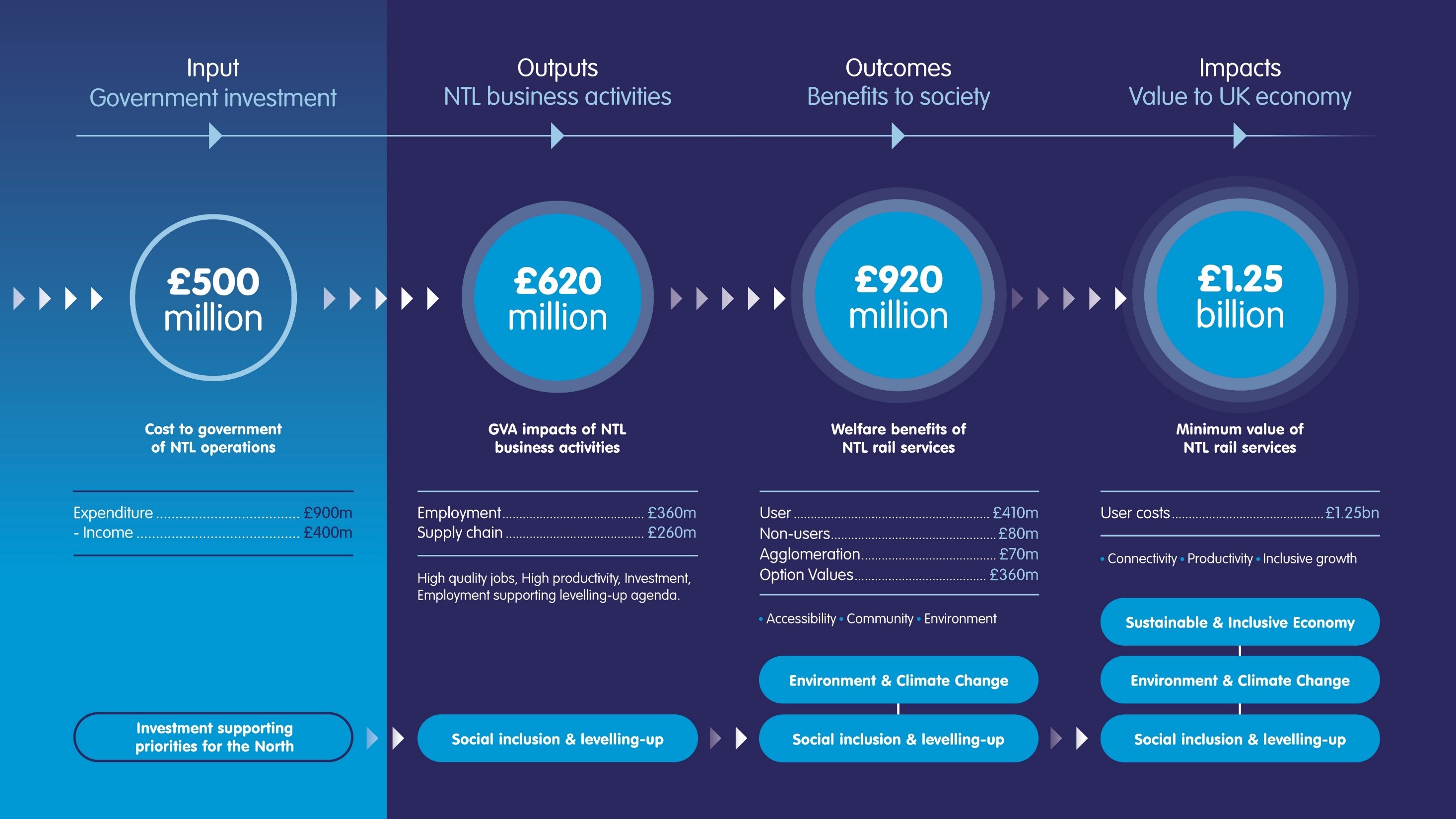 Findings from the study
The key findings from this work, which has focussed on the year immediately prior to the pandemic are:
Northern is a driver of growth and jobs in the region.
Northern is a major employer in the region.

We provide 6,600 people with jobs across the region as a whole, including 600 in the North East, 3,200 in the North West, 2,700 in Yorkshire and the Humber, and 80 in the East Midlands.

This supports the North's economy.

Together these roles contributed over £360 million to the local economy and continue to support the region's recovery from the pandemic.

The benefits are spread across the entire region.

The benefits were spread across the region's cities, with cities like Leeds (£62 million of GVA), York (£25 million of GVA) and Blackpool (£19 million of GVA) all seeing major benefits.
We are proud to support British suppliers and local businesses
Our supply chains create jobs and growth across the UK

. We work with over 1,000 different suppliers, supporting 4,300 jobs.

Where we can we back local businesses,

and almost half of our procurement spending is with firms based in the North. Annually our supply chain spend is over £600 million, representing 45% of our total purchasing.
Read our supplier case studies
Our services tie the region together, and help people work, shop and travel.
We help people in the North get to work, shop and travel.

Our services support at least £1.25 billion of economic activity every year, provide £920 million worth of benefits to wider society and ensured that key workers could travel during the pandemic.

We also keep people off the road, reducing emissions, accidents and congestion

. By contributing to modal shift our services help to reduce highway congestion, infrastructure maintenance, accidents, noise, greenhouse gases and improve air quality - with total benefits worth £75 million each year.
Our services help spread benefits across the whole of society and we're working hard to make them accessible.
We work with local communities to improve stations and services.

We provide funding for 21 Community Rail Partnerships across the network, spending £1 million every year on projects chosen with local people.
The effects of COVID-19 and recent recovery
Through 2020 and 2021 the pandemic has had a dramatic impact on rail passenger demand. Although there there's uncertainty as to how well rail demand will recover, many of the underlying drivers of rail demand growth in the North will remain intact. In fact, the North has already seen a relatively strong recovery.
There are likely to be a range of behavioural and land use changes because of the pandemic. People will travel to places of work less often and shopping and leisure habits will alter too. These effects may however be less pronounced in many areas of the North due to the mix of industrial sectors, especially in the smaller cities and sub-regional centres, and the wide range of leisure assets available.
Next steps
As well as demonstrating the value of Northern, we are using the study findings to shape both our own strategy and that of partners. We are actively monitoring these indicators to understand our impacts across the North on an ongoing basis, as well as looking for where we might increase this value. Our approach to sustainable development has actively used the study findings to shape priorities around:
Sustainably optimising and grow the network.

Increasing passenger numbers.

Reach net zero emissions.

Developing stations as places of choice for businesses and communities.

Increasing our social value.
We will continue to actively assess, monitor and promote this value, as we work with partners across the network.