Are you a Newcastle commuter keen to unearth the city's hidden gems?
Instead of heading straight home after work, discover all that this vibrant city has to offer – from music and culture to food, drink, and quirky activities.
Go Do Your Thing After Work with Northern!
Team building fun
If you're looking for an activity to do after work in Newcastle, you're spoilt for choice. Whether you fancy something physically or mentally stimulating, these options are the perfect way to cut loose after work. 
Lane 7 - make your way to Lane 7 on Saint James Boulevard – just a stone's throw from the station – and bowl over your colleagues with your ten-pin skills. This retro-styled bowling alley has a great menu of crowd-pleasing food, delicious shakes and cocktails if you fancy a bite to eat. Don't fancy bowling? Not to worry, Lane 7 also offers karaoke, ping-pong and pool.
Point Blank Shooting – this unique simulation shooting range is the first of its kind in the U.K. and is the perfect way to break up the monotony of the working week. Select a replica weapon from the armoury and, using laser technology, make your way through a variety of shooting scenarios which test your timing, aim and reflexes. Testing your combat skills is thirsty work so be sure to check out the cocktail menu (perfectly paired with wings, nachos and pizza).
EXIT Newcastle – get your team together to take on an escape room at EXIT, located on Westgate Road. Depending on how confident you're feeling after a day at the office, pick between an easy, medium or challenging room with themes including 'The Heist' and 'Volatile Laboratories'. Work as a team to see if you can escape the room using a series of clues before the 60 minute timer runs out.
Wonder Bar – head to The Gate for a game of interactive darts at this sleek venue which also includes a Bierkeller. Step into the oche and pick from a range of five interactive games – no prior experience necessary! If going for bullseye means you work up an appetite, you can also order food and drink whilst playing.
Grab a drink or bite to eat with colleagues
There's no shortage of excellent food and drink in Newcastle's buzzy city centre. Empty fridge waiting for you at home? No problem…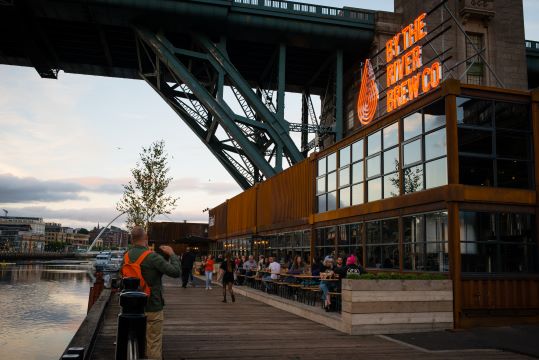 By the River Brew Co – this food and drink hotspot is an independent outfit set inside repurposed shipping containers which sit beneath the iconic Tyne Bridge. Open after work on Thursdays and Fridays, its Tap Room is the perfect place to get the weekend started early by sampling its wide range of craft beer. On Friday evenings, head here for a bite to eat and take your pick from the range of independent vendors at its street food market. Thanks to its riverside location, this spot is perfect when the sun is shining.
Zucchini Pasta Bar – this casual yet stylish independent pasta bar is ideal for a quick bite after you leave the office. Serving freshly-made, hand-rolled pasta, all of Zucchini's ingredients are either imported from Italy or sourced locally. Despite having a concise menu that majors on simplicity, you're guaranteed to be spoilt for choice.
Horticulture – boasting 'the world's biggest espresso martini menu', caffeine junkies will be in heaven at this stylish bar and restaurant tucked away on Market Lane. Its elaborate cocktail menu is just the beginning of Horticulture's offering, with a bountiful menu of innovative and experimental dishes made using fresh, organic, locally sourced produce with a focus on sustainability.
French Quarter – the perfect place to unwind after a day at the office, head to Westgate Road and duck into this Parisian-style bar and eatery for relaxed small plates and a brilliant selection of wine and craft beers.
Broaden your mind
Tyne Theatre and Opera House – clock off from work and indulge yourself in some culture at this Victorian theatre in the heart of Newcastle and just 5 minutes' walk from the train station. Marvel at the stunning features in this Grade I Listed theatre which opened more than 150 years ago. Take your pick from a range of amazing shows – whether it's theatre, comedy, opera or a musical.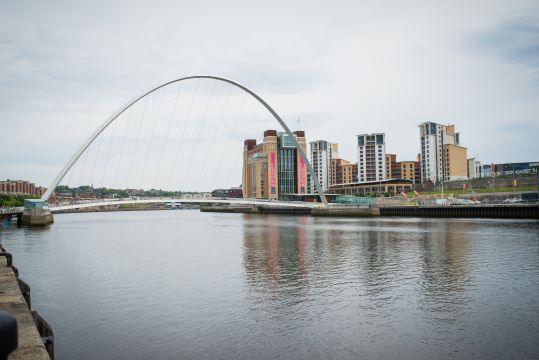 The Stand Comedy Club – this esteemed comedy club on High Bridge Street is the perfect spot for a laugh after work. Boasting a roster of comedians including nationally known acts and local up-and-comers, head downstairs into this basement club for a buzzy atmosphere and a memorable night.
Cobalt Studios –  check out this intimate and inclusive venue, located in Ouseburn. This arts space offers a wide range of cultural offerings making it the perfect hotspot to see live music, drop into an open mic or attend one of their varied scheme of interactive events.
Newcastle Arts Centre – organise an after-work trip to this arts hub in central Newcastle. Home to The Black Swan, a music, dance and performance venue in the basement of the Arts Centre, there's a scheme of stimulating cultural activities on offer in the evening such as life drawing workshops and jazz events.
Take in some live music
Newcastle is a hub of live music with an abundance of choices if you fancy going to a gig after work. Check out the Utilita Arena or the O2 City Hall for world-renowned music and comedy acts like Olly Murs, Peter Kay and Fatboy Slim. There's also plenty of choice if you fancy something more off the beaten track to discover your new favourite band.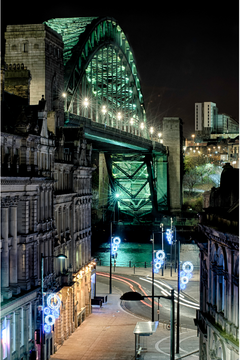 The Cluny –  with a reputation as one of Newcastle's best independent music venues, check out what's on at The Cluny in Ouseburn which regularly plays host to a wide range of acts, from blues to indie rock. As well as being a live music venue, this uber-cool hotspot is also a bar and eatery that's known for its excellent selection of beers and crowd-pleasing food menu, meaning you can head there straight from work for a bite to eat before the gig.
Boiler Shop – this venue is the perfect place to enjoy live music against an industrial yet stylish backdrop and is right on the doorstep of Newcastle station. Uniquely charming, the industrial-age space was named one of BBC Music's 10 most beautiful gig venues in the UK and welcomes artists from an array of musical genres to perform to its 1,000-capacity entertainment space.
Riverside – located in the Grade II Listed building, Neptune House, this venue on the Quayside is a bastion of Newcastle's live music scene. With a roster of acts performing throughout the week, get your work pals together for a gig after work.