It can be challenging to find fun activities to do with the kids at weekends or holidays, especially if your children are of different ages. So we've put together a list of great places that are accessible by train, making your travel cheaper and kinder to the planet.
Check out our top 10 child-friendly boredom breakers to keep everyone happy - and tire out the little darlings!
01. Blackpool Pleasure Beach, Blackpool
Wowing crowds since the first ride opened in 1904, the Pleasure Beach at Blackpool is the most ride-intensive amusement park in the UK. Keep the adrenaline buzzing with thrills such as the Icon - the newest rollercoaster in the park, defy gravity with Ice Drop or try Valhalla's dark water experience. Head for Nickelodeon Land to meet SpongeBob SquarePants, PAW Patrol and other Nick favourites, along with log flumes, aerial adventures and classic rollercoasters.
There's so much to see and do at Blackpool Pleasure Beach; you could easily spend whole days here!
02. Go Ape, Delamere
With centres all over the country, Go Ape offers a wild treetop adventure, perfect for keeping every family member happy.
Delamere has a range of challenging experiences, from the white knuckle zip wires, Segways and The Plummet - a terrifying plunge to the forest floor, to axe throwing, off-roading and the less arduous bouncy nets.
Exhilarating, unforgettable adventures will be had by all after a day out at Go Ape!
03. Leeds City Museum, Leeds
Spread over four floors, the family-friendly Leeds City Museum has something for everyone. Offering a glimpse into the fascinating world around us, the Life on Earth gallery houses 800,000 exhibits. From prehistoric dinosaurs to rainbow butterflies, valuable minerals from around the globe, and botanical species collected in exotic countries, there's a whole world to discover. 
04. Carlisle Castle, Carlisle
Just a short walk from Carlisle station lies William II's imposing 11th-century castle, guarding the gateway to England from the Scots. It is one of the few castles that has been occupied continuously since its construction began in 1093 and has played a significant role in the disputes between the two countries. Surviving the Civil War in 1642 and the Jacobites rising a century later - with 31 members of the Jacobite garrison being publicly executed, the 1850s saw it occupied by the Duke of Wellington's 33rd Regiment of Foot.
Explore this great castle's rich and turbulent history, now also housing Cumbria's Museum of Military Life, and wander through its medieval rooms. Home to countless prisoners, discover the thought-provoking carvings in the Keep and the story of Mary, Queen of Scots, who spent many months locked in the Warden's Tower.
Carlisle Castle offers an extraordinary chance to experience history while enjoying a fantastic day out with the kids.
05. Exhibition Park, Newcastle
Exhibition Park in the heart of Newcastle was first opened for the Royal Jubilee Exhibition in 1887 and has been a popular tourist destination ever since. It regularly hosts sporting events, open-air concerts and festivals, and with its on-site brewery, locals spend many hours relaxing on the grass during the summer.
The impressive Palace of the Arts is arguably one of the best-preserved examples of art deco architecture. The nearby tree-lined promenades, stunning flower beds, and serene lake are home to families of swans and ducks, making this a glorious place to visit.
06. The Deep, Hull
Just a few minutes from Hull station, The Deep offers an up-close-and-personal look at the undersea world, one full of colour and strange-looking creatures. Home to more than 5,000 marine animals, from stingrays, starfish, and sharks, to turtles, axolotls, and penguins, The Deep is part of global conservation programmes designed to preserve these species for future generations.
With animal experiences to enjoy, including sleepovers, opportunities to adopt your favourite shark, penguin or turtle, and so much more, The Deep has something for everyone.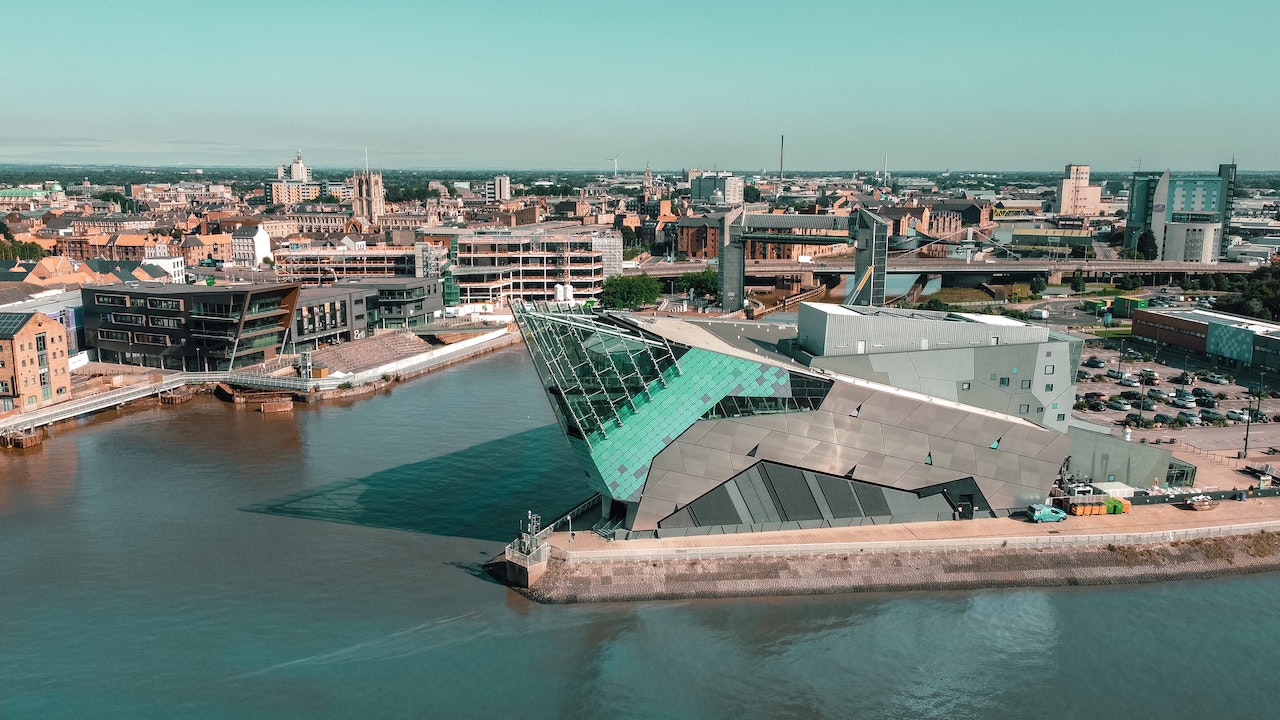 07. Jorvik Centre, York
The award-winning Jorvik Viking Centre has successfully created a revolutionary experience, bringing the past to life and immersing visitors in a full-on Viking adventure.
Explore fascinating artefacts, and frightening weapons, and understand more about these feared warriors from across the sea.
The innovative time machine will hurl you back through the ages at supersonic speed to the very date the Vikings invaded York in October AD 975. This is an exceptional opportunity to see and hear history as it happens.
08. Time Trap Museum, Grimsby
At the heart of Grimsby, in the old Town Hall, the Time Trap Museum takes you on a journey into the town's dark history.
Thrilling adventures await as you explore deeper, uncovering the prison cells, where both criminals and the wrongly accused awaited their fate. Discover how disease and death were constant companions and how the town rose from its tragic past, becoming one of the largest fishing ports in the world.
This hidden gem is well worth visiting, and all ages will find it fascinating.
09. Science and Industry Museum, Manchester
With collections spanning history, both of Manchester and beyond, the museum offers an interactive journey through time and space. Explore music through the senses, the solar system and wander through galleries of artefacts. Carry out experiments with the whole family and learn whilst having fun at the Science and Industry Museum.
Just a ten minute stroll from Doncaster train station, Reptile Rendezvous is home to an impressive (and adorable) collection of rare and exotic animals. From beautiful black and white skunks to the sweetest wide-eyed lizards, from armadillos to little owls, there's something to please everyone here.
The keepers are highly knowledgeable, very patient, and happy to let visitors ask as many questions as they wish. This is a day out that everyone can enjoy!
Family Days Out in the North
Stunning countryside, beautiful towns and quaint villages - the North of England has it all, add in the friendly locals and it's the perfect destination for a holiday or day out exploring. Family-friendly attractions are around every corner, offering something ...
Find out more