It's the most wonderful time of the year, when the Christmas Markets come to town! Each year, Yorkshire and Lincolnshire have an abundance of Christmas Markets to enjoy, and 2017 is no different. Whether you want to stock up on cheeses and meats, meet some friends for a beer, or pick up a quirky gift at the arts and crafts stalls, the Christmas Markets have something for everyone.
We've chosen the best of the best in Yorkshire and Lincolnshire, all easily accessible by train using Northern.
Leeds Christkindelmarkt
It wouldn't be Christmas in Leeds without the annual Christkindelmarkt, a traditional German Christmas Market held at the Millennium Square bringing food, drink, crafts, decorations and entertainment galore! Highlights this year include the Ski Hutte bar, and the Alp Chalet which will be holding a special Santa's Breakfast. Whilst the Christkindelmarkt is free to roam around and enjoy, some specific events require pre-booking.
The market, held at Millennium Square in Leeds is a short walk from Leeds railway station. One of the biggest stations in the North, Leeds is easy to reach using Northern trains. Plan your journey now: www.northernrailway.co.uk or download our app.
When: 10 November – 24 December
Where: Millennium Square, Leeds, LS2 3AD
Nearest station: Leeds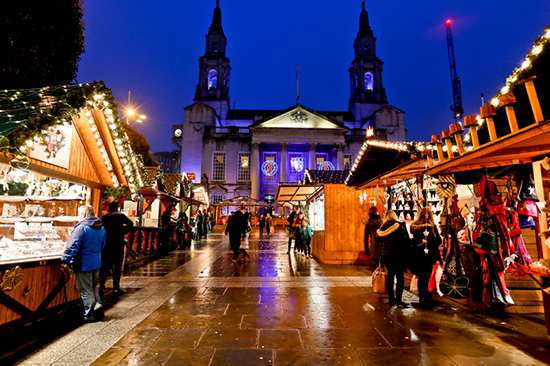 The Piece Hall, Halifax
The Piece Hall reopened earlier in 2017 after undergoing a £19 million conservation and transformation programme. The building looks amazing on a normal day, but the Christmas event is sure to take your breath away. The main focus point will be the Spiegeltent, a grand tent holding a series of shows. What exactly is a Spiegeltent? We're glad you asked! The Piece Hall describe it as "a 'mirror tent' - a spectacular round wooden structure from the Netherlands measuring 20 meters in diameter with a lavishly decorated inside with mirrors and glass and velvet." Sounds great to us!

As well as the Spiegeltent, the Christmas period at the Piece Hall will feature a Christmas Market with food, drink, gifts and treats, family workshops and a spectacular 30ft Christmas tree. The festivities will brought to a close with a spectacular New Year's Eve celebration.
The Piece Hall is just around the corner from Halifax railway station, with Northern services calling regularly from Manchester, Leeds and Huddersfield.
When: 25 November – 31 December
Where: The Piece Hall, Blackledge, Halifax HX1 1RE,
Nearest station: Halifax
Lincoln Christmas Market
Between 7 and 10 December, Christmas festivities will take over the Cathedral Quarter of Lincoln. Promising to bring festive cheer to all, the four day event will bring food, drink, and all things Christmassy to the city, all with the backdrop of the spectacular gothic Lincoln Cathedral.
With more than 280 stalls this year, there will be something for everybody to enjoy, whether you prefer to have a beer in Thor's Tipi Bar or a hot drink at the pop-up Victorian tea room, and the whole family can enjoy a packed programme of entertainment.
Lincoln Christmas Market is the largest in Lincolnshire and the highlight of the festive calendar. Leave the car behind and take advantage of the regular Northern train service to Lincoln.
On Sunday 10 December more trains will be in operation to Lincoln as part of our December timetable change. The service between Sheffield and Lincoln will be hourly all day, offering morning services on this route for the first time in decades.
When: 7 - 10 December
Where: Bailgate and Steep Hill, Lincoln, LN1 3AA
Nearest station: Lincoln
St Nicholas Fair, York
We all know York is a great place to do your Christmas shopping, but what makes it even better is the Christmas cheer brought by the annual St Nicholas Fair. As well as the delicious food, drink and shopping you expect from a Christmas Market, St Nicholas Fair also brings the Ice Factor; a stunning ice rink!
The fair is made up of Scandinavian style stalls, based around Parliament Street and St Sampson's Square, but also spreads across other parts of the beautiful city centre, including a at the Judges Lodgings where a Small Business Christmas Market will be held, full of hand crafted gifts.
Travel by train to York, it's easy to get to using Northern services from Hull, Harrogate, Leeds and the Calder Valley.
When: 16 November – 22 December
Where: Parliament Street, St Sampson's Square and across the City Centre
Nearest station: York
Sheffield Christmas Markets
A child friendly Christmas Market, based in the main shopping area of Sheffield, with a Santa's Grotto guaranteeing a gift for every child! The market is made up of wood cabins selling festive food and drinks, crafts and gifts. A great place to relax and get into the Christmas spirit, as well as pick up some unique presents for friends and family.
Sheffield is easily accessible by train using Northern services, with regular services from Lincoln and Leeds.
When: 16 November – 24 December (check website for full details)
Where: Fargate and Town Hall Square
Nearest station: Sheffield